RAM
2025 Dodge RAM 1500 REV: The First Electric Full-Size Truck From RAM
2025 Dodge RAM 1500 REV
The 2025 RAM 1500 REV, representing Dodge's debut launch into the realm of all-electric pickup trucks, is poised to bring about a paradigm shift within the electric vehicle industry owing to its remarkable array of features and exceptional performance capabilities.
This zero-emission car will be released as a 2025 model and constructed upon the innovative STLA Frame platform.
2025 Dodge 1500 RAM REV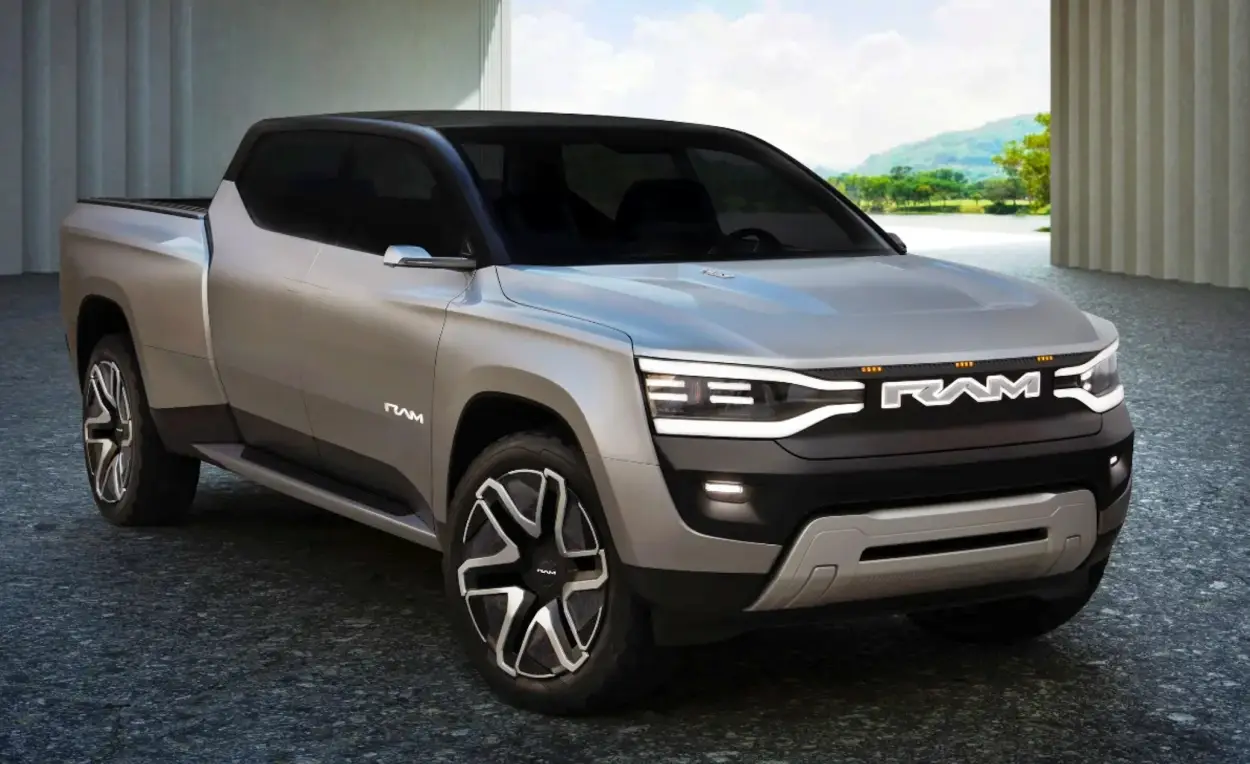 The Ram 1500 REV will offer consumers a choice between two battery configurations: a conventional battery pack with a capacity of 168 kilowatt-hours and an alternative option of a larger battery pack with 229 kilowatt-hours.
The manufacturer's predicted overall driving range of the primary battery pack is 350 miles, while the larger battery pack aims to achieve an unparalleled range of up to 500 miles.
The Ram 1500 REV emerges as a formidable contender in the electric vehicle (EV) industry due to its ability to provide extended driving ranges surpassing most current models.
Power and Performances
The Ram 1500 REV exhibits commendable power and performance capabilities. Each model will have a dual-motor configuration, providing electric all-wheel drive.
The aggregate power generated will reach a maximum of 654 horsepower and 620 pound-feet of torque, facilitating the vehicle to achieve an estimated acceleration from 0-60 mph in around 4.4 seconds.
The Ram 1500 REV also has outstanding performance in terms of towing capacity and loading capabilities.
The variant equipped with the 168-kWh battery will have a lower price point and enhanced towing capacity.
The anticipated towing capacity of the vehicle is projected to reach a maximum of 14,000 pounds, while the payload is estimated to be around 2700 pounds, contingent upon the selected choices.
2025 Dodge RAM 1500 REV Interior
The inside of the Ram 1500 REV has been carefully produced to prioritize comfort and convenience. The vehicle is equipped with 14.5-inch touchscreens that control the various entertainment systems within the cabin.
This 360-degree camera system incorporates digital side-view mirrors and a head-up display.
The vehicle's infotainment system is equipped with a Smart Home Control feature, enabling occupants to remotely manage various home devices from the driver's seat, including lighting, cameras, thermostats, and audio systems.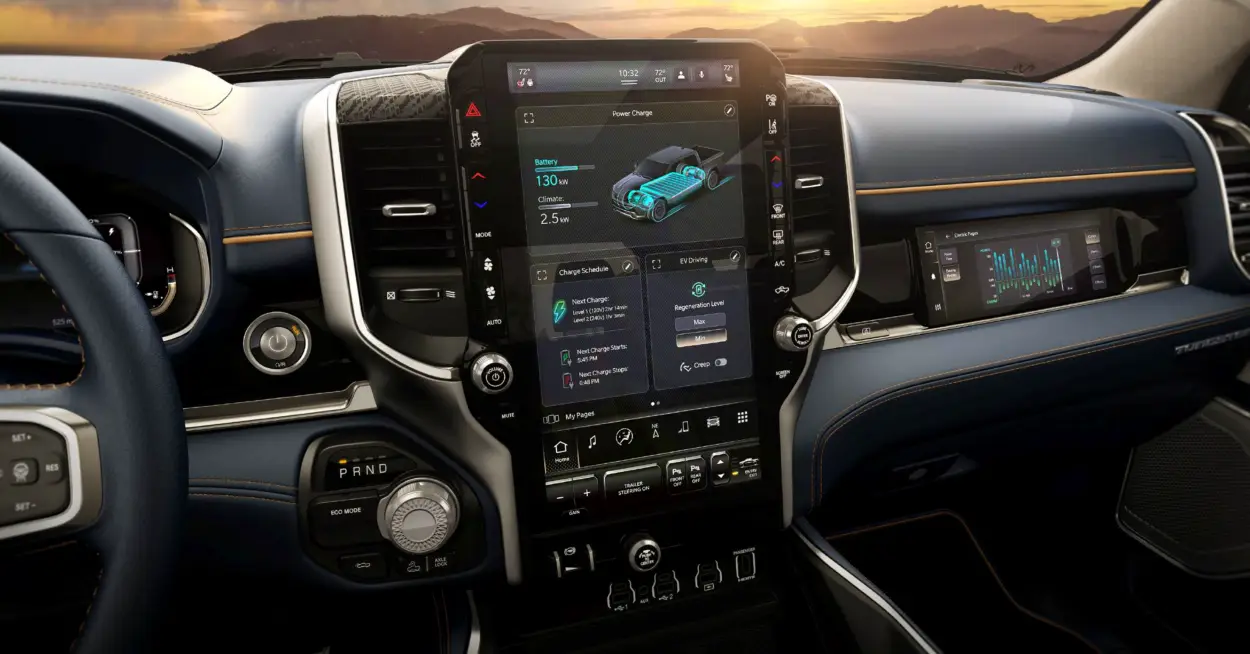 Trim Levels
The 2025 Ram 1500 REV is expected to offer a selection of five distinct trims, including the Tradesman, Big Horn/Lone Star, Laramie, Limited, and the newly introduced Tungsten variant.
The Tungsten trim variant showcases a distinctive two-tone upholstery in Indigo/Sea Salt, accompanied by metallic accents dispersed throughout the cabin. Additionally, the interior boasts a suede-wrapped headliner, A- and B-pillars, and visors.
2025 Dodge RAM 1500 REV Interior Price
Regarding the cost, Kelley Blue Book approximates the initial pricing of the Ram 1500 REV to be approximately $58,000 (USD), while the fully equipped Tungsten variant is projected to approach $100,000. Nevertheless, the manufacturer has not yet disclosed the official pricing information.
Features
Two battery options: a 168-kWh pack and a 229-kWh pack. The 168-kWh pack will offer a range of up to 350 miles, while the 229-kWh pack will offer a range of up to 500 miles.

Two electric motors, one on each axle, totaling 654 horsepower and 620 pound-feet of torque. All-wheel drive is standard.

Towing capacity of up to 14,000 pounds and payload up to 2,700 pounds.

A frunk (front trunk) with up to 11 cubic feet of storage space.

A power outlet in the bed can provide up to 7.2 kW of power.

The ability to tow and charge another electric vehicle simultaneously.

The ability to send power back to the grid during a power outage.

A 12.0-inch infotainment touchscreen is standard, and a 14.5-inch touchscreen is an upgrade.

Apple CarPlay and Android Auto are included.

A 12.3-inch digital gauge display and head-up display will be available ahead of the driver.

Advanced driver assistance features include adaptive cruise control, lane departure warning, and automatic emergency braking.
The 2025 Ram 1500 REV is a significant step forward for Ram Trucks and Stellantis. It is the first electric full-size truck from either company and one of the most capable electric trucks on the market.
The REV is sure to appeal to a wide range of customers, from those who need a truck for work to those who want a stylish and luxurious electric vehicle.
The 2025 Ram 1500 REV demonstrates considerable potential as a notable inclusion within the electric vehicle industry.
With its impressive range, robust power, and extensive features, this product is poised to present a formidable challenge to its competition.
As the release date approaches, it is anticipated that additional captivating information will be unveiled on this innovative electric pickup truck.